Woo was directed in collaboration with Sarah Wilson-Austensen, and produced with the help of many hard working team members.
Originally named after Emily Carr's pet monkey, WOO Publication is Emily Carr University's student publication showcasing student work from all disciplines including art, design, creative writing, media, illustration, and more. The publication aims to embrace the diverse stories of the Emily Carr community. All members of the ECU community are encouraged to submit.

Throughout the academic 2013 – 2014 Sarah and I worked as the Editors in Chiefs and Co-Directors of Woo, working to rebuild the legacy of Woo after the return from a long hiatus in 2012. Along with overseeing the design, editorial, and publication of issues released in the 2013 – 2014 academic year, we were also tasked in setting up Woo logistically for future students; setting up an editorial team that would carry on once previous members had graduated from ECU, building Woo's reputation and recognition amoungst the ECU community to ensure continuing participation from the student body, and working with ECU's student union on future budgets and planning.
Woo is Emily Carr University's student publication
promoting work created
by the student body.
Creative Director & Editor In Chief: Jaquie Shaw & Sarah Wilson
Executive Editors: Omar Linares & Areum Kim
Media Director: Geoff Campbell
Media Team: Sami Barker & Lauren Ray
Print Manager: Katie Dixon
Design Team: Katie Dixon, Sarah Wilson, Jaquie Shaw, Daniela Buitrago, Yili Lou, Jan Wong, Sami Barker, Kyu Won Lee, Juan Cisneros
Editorial Team: Omar Linares, Areum Kim, Jennifer Dickieson
Woo Winter 2013
Creative Director & Editor in Chief: Sarah Wilson & Jacquie Shaw
Executive Editors: Omar Linares, Areum Kim
Media Director: Geoff Campbell
Media Assistant: Sami Barker
Print Manager: Katie Dixon
Design team: Yili Lou, Jan Wong, Daniela Buitrago, Sami Barker, Katie Dixon, Jaquie Shaw, Sarah Wilson
Editorial Team: Sara J. Molcan, Omar Linares, Areum Kim
Woo Fall 2013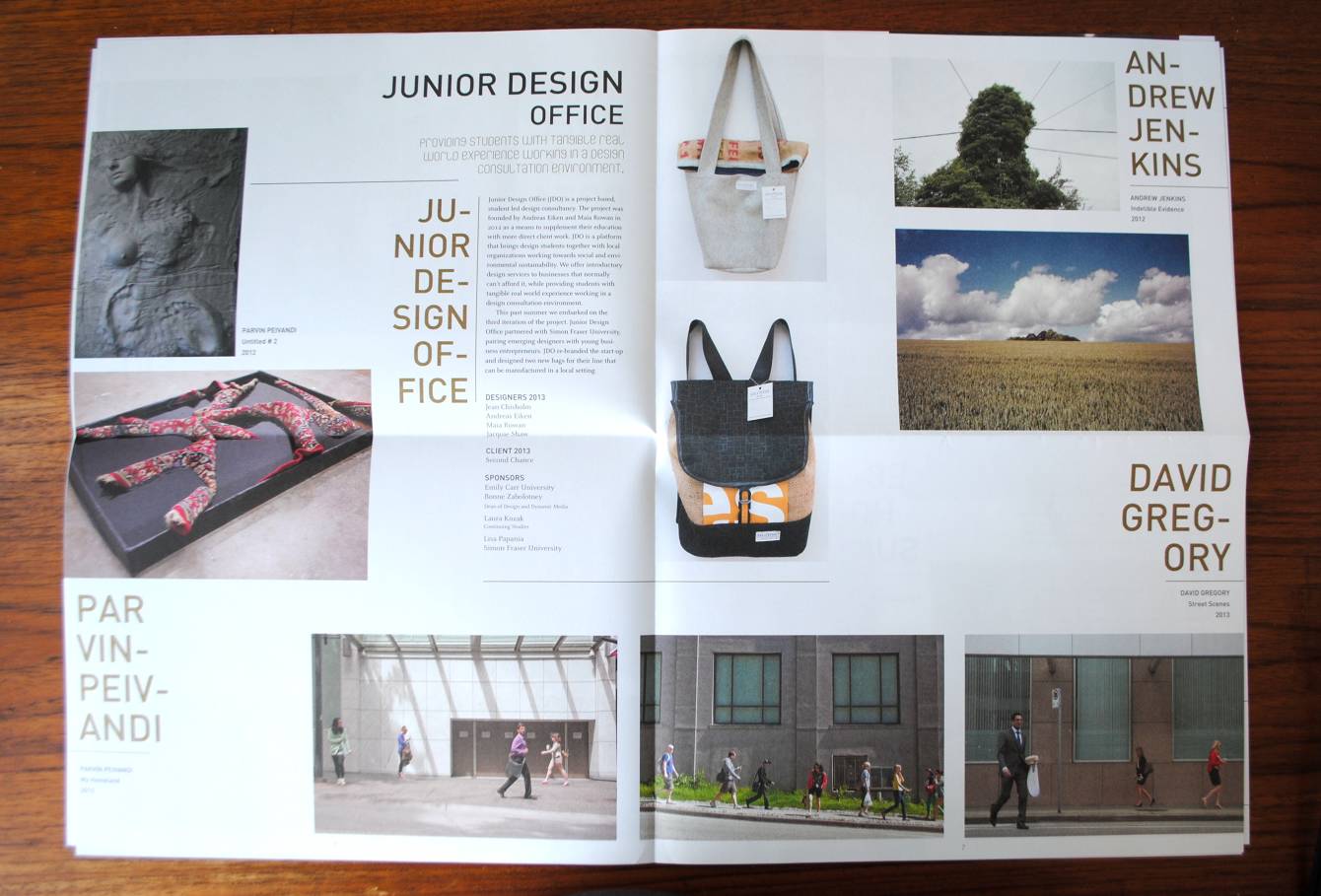 Editors in Chief: Jacquie Shaw, Sarah Wilson
Executive Editors: Omar Linares, Areum Kim
Editors & Contributing Writers: Omar Linares, Areum Kim, Jessica Molcan, Farrah Nazareth
Designers: Yili Lou, Daniela Buitrago, Sarah Wilson, Jacquie Shaw
Media Director: Geoff Campbell
Media Apprentice: Sami Barker
Print Manager: Katie Dixion
Woo Spring 2013
Editor in Chief: Michaela Mitchell
Designers: Lan Yan, Jacquie Shaw, Sarah Wilson, Matt Chan
Editors: Alex Boisan, Stella Hsu
Editor & Public Relations: Omar Linares
Advertising and Media: Daniela Buitrago
Print Manager: Karina Hjort, Jacque Shaw
Manager of Media & Photography: Geoff Campbell
Cover image by: Justin Ng
Woo Winter 2012
Editor in Chief: Michaela Mitchell
Designers: Lan Yan, Jacquie Shaw, Sarah Wilson, Matt Chan
Creative Manager + Editor: David Roth
Editors: Alex Boisan, Stella Hsu
Editor & Public relations: Omar Linares
Advertising and Media: Daniela Buitrago
Management of Print: Karina Petersen, Jean Chisholm
Manager of Media: Geoff Campbell
Media + Contributor: Daniel Kiernan